<!- box:side-1 -->
School Awards
2012 & 2018 National Blue Ribbon School
2019 US DOE Green Ribbon School
2020 National School of Character
2012 & 2018 National Blue Ribbon School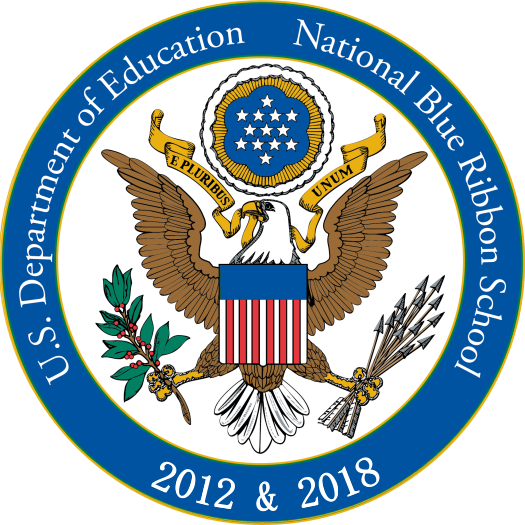 U.S. Department of Education Honors Saint Leo the Great School with
Consecutive Blue Ribbon School of Excellence Awards
To view our 2018 National Blue Ribbon School Profile, click here .
Congratulations to our Saint Leo the Great Community – our students, faculty, staff, and parents – on receiving these coveted recognitions!
---
PRESS RELEASE
U.S. Department of Education Honors Local School with
Consecutive (2012 & 2018) Blue Ribbon School of Excellence Awards
(October 1, 2018) The U.S. Department of Education has again recognized Saint Leo the Great as a National Blue Ribbon School of academic excellence. The school was first awarded this honor in 2012 and became eligible for consideration again this year. Meeting the criteria in the Exemplary High Performing School category every year since 2012, Saint Leo the Great is one of 49 non-public schools to achieve the coveted National Blue Ribbon School of Excellence for 2018.
"We recognize and honor your important work in preparing students for successful careers and meaningful lives." said Secretary of Education Betsy DeVos in a video message to the honorees.
National Blue-Ribbon Schools are on education's cutting edge, pioneering innovative educational practices from professional learning communities and project-based learning to social and emotional learning and positive behavior systems. Schools are nominated by the state department of education and then complete a comprehensive application about school practices. Schools may be nominated as Exemplary High Performing—among the top schools in a state—or Exemplary Achievement Gap Closing—schools making the fastest progress in their state in closing achievement gaps among student subgroups.
"This honor has surpassed my expectations and I am grateful to all who made this accomplishment possible," stated Neil Begley, Principal. "I am so proud of Saint Leo the Great School for receiving this recognition."
School officials will represent Saint Leo the Great at an awards ceremony in Washington, D.C., where they will hear from Secretary DeVos and other esteemed educators, share best practices with each other, and celebrate their hard-won achievements.
For more information about Saint Leo the Great School, please contact the school office at 732-741-3133 ext. 225.