<!- sidebar-file='/sites/www.saintleothegreatschool.com/web/slg/_zumu_sidebar.html' -->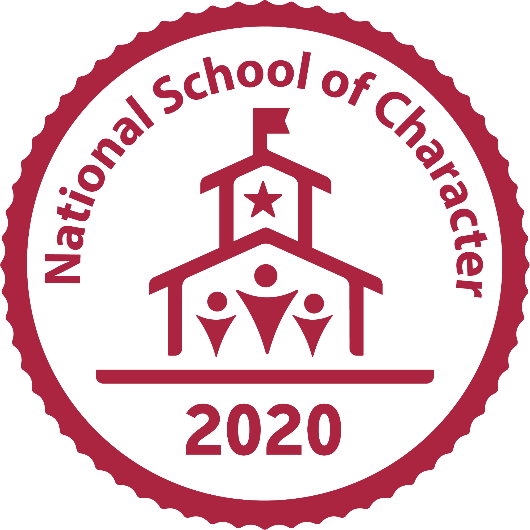 Saint Leo the Great School is proud to announce that in addition to our recent recognition as a 2020 New Jersey School of Character, we have now been recognized as a 2020 National School of Character. Saint Leo's is the first school in the Diocese of Trenton to be designated as such and one of only 84 schools throughout the country to be recognized as a 2020 National School of Character.
Character.org, a national advocate for character education, certifies schools that demonstrate a dedicated focus on character development which has a positive effect on academic achievement, student behavior, and school climate. These schools serve as an exemplary model for all schools across the United States.
During challenging times, it is even more critical that we ensure the continued spiritual, academic, and personal growth of our students. At Saint Leo the Great, our CHARACTER keeps us LION STRONG!
Congratulations to all!
To view Saint Leo's Press Release, click here.
Click above to see all of our great submissions from our School Spirit Day!
<!- box:box-2 -->
Quick Links
2020-2021 Re-Registration
Email Login
Forms
Homework
Lion's Den
Monthly Calendar
Nurse's Office
Parent Portal
Parish Website
Staff Directory


Check out our amazing Preschool program.
More...
Saint Leo the Great School Preparation and Response Plan for COVID-19
Planning and Administrative Coordination Team
Mr. Cornelius Begley, Principal
Ms. Caroline Fitzgerald, Vice Principal
Mr. David Guglietti, Vice Principal
Mrs. Nicole Nolan, School Counselor
Mr. Rich Romero, Director of Operations
Mr. Tom Coyle, Director of Parish Security
Mr. Joseph Manzi, Director of Finance, Operations, and Development
Mrs. Denise Bailey, School Nurse
Mrs. Patricia Falconite, School Nurse
Mrs. Cathy Aldridge, School Secretary
Mrs. Cynthia Dapra, School Secretary
The Administrative Coordination Team meets on an on-going and as-needed basis as the information related to the Coronavirus (COVID-19) challenge continues to change.
Continuity of Student Learning
Out of an abundance of caution, Saint Leo the Great School will be closed from March 16 th through March 30 th . This will be addressed with the Administrative Coordination Team on an on-going basis to discuss any potential for a prolonged period of remote learning.
Prior to the decision to close, Saint Leo the Great Faculty developed online learning plans following our various curriculum standards should there be a need for remote learning. Those plans have been put into place and teachers have begun to disseminate materials necessary for online learning. Our students have been successful thus far in achieving daily goals for learning and completing assignments and assessments in a new virtual setting. All Faculty and Staff are available for online learning and the virtual school day between the hours of 9:00AM and 2:00PM.
Our teachers (Preschool-4 th , 5 th -8 th , and Specials) meet weekly via telephone conference with the Administrative Team (Principal, Vice Principals, and School Counselor) to discuss any challenges to remote learning and any concerns they may have relating to student performance and student needs.
Additionally, our School Counselor has created a website dedicated to online resources related to the on-going Coronavirus (COVID-19) challenge and is available for parent or student check-ins to discuss any concerns.
Infection Control Procedures
During our school closure timeframe, Saint Leo the Great School will undergo a deep clean throughout the entirety of the school campus.
Additionally, Saint Leo the Great School has always had various hand-sanitizer stations throughout our school building that are evident in the following areas: entrance to the school, outside of the main office, at the exit to the cafeteria, outside of all bathrooms, and throughout hallways.
Our Director of Operations has a thorough cleaning regime that he and his staff perform throughout our school building daily that exceeds current recommendations.
Communication and Planning
Measures are in place in order to reach parents and our school community through various forms of communication including: our school website, social media, and our School Messenger System. Our School Messenger System allows for text messaging, direct phone call messages, and e-mail communications with our parents. Additionally, our Administrative Coordination Team has access remotely to parent contact information through Genesis, our student information system. Our Parish Center also has its own e-mail communication with parishioners that have kept them updated on the on-going situation and any changes to schedules.
Local Duties and Responsibilities
As part of our larger Administrative Crisis Team, each member has its own distinct set of roles and responsibilities. As such, our Principal is the primary contact for key stakeholders in this process and has been in direct contact with the Middletown Police Department, the Middletown Department of Health, and the Monmouth County Department of Health. Our Administrative Coordination Team follows strict guidelines and protocols as set forth by the overseeing stakeholders during this time including the aforementioned and the Diocese of Trenton.