<!- sidebar-file='/sites/www.saintleothegreatschool.com/web/slg/_zumu_sidebar.html' -->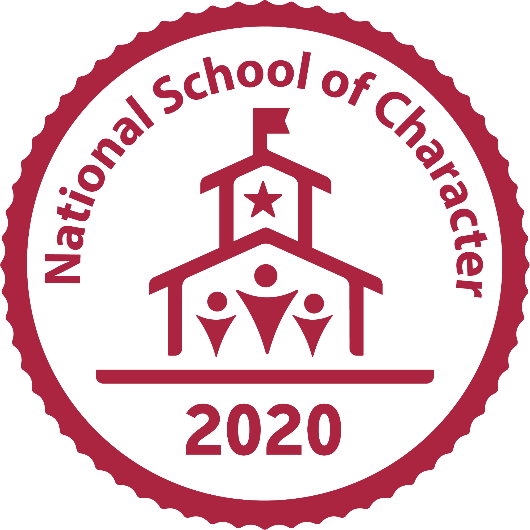 Saint Leo the Great School is proud to announce that in addition to our recent recognition as a 2020 New Jersey School of Character, we have now been recognized as a 2020 National School of Character. Saint Leo's is the first school in the Diocese of Trenton to be designated as such and one of only 84 schools throughout the country to be recognized as a 2020 National School of Character.
Character.org, a national advocate for character education, certifies schools that demonstrate a dedicated focus on character development which has a positive effect on academic achievement, student behavior, and school climate. These schools serve as an exemplary model for all schools across the United States.
During challenging times, it is even more critical that we ensure the continued spiritual, academic, and personal growth of our students. At Saint Leo the Great, our CHARACTER keeps us LION STRONG!
Congratulations to all!
To view Saint Leo's Press Release, click here.
Click above to see all of our great submissions from our School Spirit Day!
<!- box:box-2 -->
Quick Links
2020-2021 Re-Registration
Email Login
Forms
Homework
Lion's Den
Monthly Calendar
Nurse's Office
Parent Portal
Parish Website
Staff Directory


Check out our amazing Preschool program.
More...
Volunteer Sign Up & Forms
The PTA contacts for Volunteer Credentials are: Christine Amato & Christine Schambach
If you have any questions about Volunteer Credentials please contact them at: SLGcredentials@gmail.com
VIRTUS Training
For the safety of our students, anyone working with the children (even volunteering) must be fingerprinted and complete the VIRTUS Training Program.
All volunteers must be recertified every four years.
To register for an upcoming VIRTUS Class in our Area:
Select "First Time Registrant" on the left side of screen

Select "view a list of sessions"

Select " Trenton NJ (Diocese)"
***Do not choose a re-certification session if you have never been VIRTUS trained before.***
Volunteer Fingerprinting - CRIMINAL HISTORY INSTRUCTIONS FOR NEW APPLICANTS
1. Access the Criminal History Review Unit's direct web address to begin the process. The web address is: http://www.nj.gov/education/educators/crimhist .
2. Select the First option: New Administration Fee Request (New Applicants Only) "
Enter your social security number and then press "Continue."
3. This screen displays four (4) options as to the job position(s) and employer. Please select Option # 3 "All Job positions,except School Bus Drivers and Aides, for Non Public Schools" and proceed to the next screen.
4. Complete the requested Applicant information and Legal Certification section. In order to continue with the ePayment process, read and accept the terms of the AA&C by checking the box.
"Job Category" section

"School Info" section

Choose "Other School Selection"

County - "Monmouth County (26)"

District - "Middletown (0780)"

School - "St Leo the Great School (17H)"
5. Please complete the required payment information. There is a $10.00 administrative fee for the department to process the request and issue an approval letter. There will also be an additional $1.00 convenience fee charged by the private vendor, NicUSA for processing the credit card information. Methods of payment are Visa, Mastercard, American Express or Discover credit cards.
You must click the "Make Payment" button only one time to complete the transaction.
6. After completing the transaction, you will be presented with three required steps:
1. View and/or print your New Administration Fee Payment Request confirmation page
2. Complete and/or print your IdentoGo NJ Universal Fingerprint Form
3. Click here to schedule your fingerprinting appointment with MorphoTrust
7. Select the first option " View and/or print your New Administrative Fee Payment Request confirmation page " and print a copy of the receipt by clicking the print button in the upper right hand corner of the page and present a copy to the employing entity (school).
8. Next select the second option " Complete and/or print your IdentoGo NJ Universal Fingerprint Form " to complete the IdentoGo NJ Universal Fingerprint Form. Type the missing information into the seven highlighted boxes (height, weight, maiden name if applicable, place of birth, country of citizenship, hair color, and eye color). After the form is complete, you must click on the "Submit" button at the top of the page. When the form has been submitted, you must view and print the IdentoGo NJ Fingerprint Form and present it to IdentoGo at the time of LiveScan fingerprinting.
9. Access the IdentoGo web page by selecting the third option " Click here to schedule your fingerprinting appointment with IdentoGo. "
10. In about 2 weeks, you will be able to view and print your " Applicant Approval Employment History " by accessing the Criminal History Review Unit website. Please give a copy to your employer (school).
Please note that only credit cards or debits cards are accepted as payment.